Theatre
LES GARCONS ET GUILLAUME A TABLE by Guillaume Gallienne
A search for gender identity and sexual orientation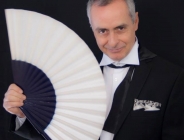 The play ''Les garcons et Guillaume a table'' by the French actor and playwright of Comedie Française, Guillaume Gallienne, is presented since 29 January and every Monday and Tuesday at Alkmini Theatre, under the direction of Anna Chatzisofia and translation by Dimitra Kondylaki. A great dramatic monologue by the actor Periklis Lianos !
It is the story of a boy, who was given a sexual identity before he discovered it by himself. A monologue with many roles: Guilaume himself, his mother, his grandmother, a psychiatrist, an Arab filmmaker and all those who determined his route. An internal wandering where the comedy alternates with the drama, the emotion with the imitation, the memory with the parody. All these feelings among prejudices, stereotypes, taboos and always under the watchful eye of his mother. The route of a boy who desperately wanted to be a girl and his struggle to live just as he dreams, free of everything and whoever deprives him of the possibility of self-creation.
The author was awarded for this work, which includes a lot of personal elements, with the Moliere Prize 2010. The story was filmed on 2013, directed by the author himself and received excellent reviews.
THE ARTBASSADOR has licensed the Greek production, on behalf of the French Collecting Society SACD (www.sacd.fr) which represents the playwright Guillaume Gallienne.