Theatre
GLORIOUS by Peter Quilter
The true story of Florence Foster Jenkins - the worst singer in the world, at Theatre Ivi, since 28 November!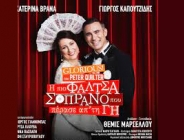 In 1940's New York, the performer who everyone wanted to see live was Florence Foster Jenkins, an enthusiastic soprano whose pitch was far from perfect... Paying little attention to her critics and an audience who mostly fell about with laughter, this joyously eccentric woman, surrounded by a circle of devoted friends, became a paradox musical phenomenal and was followed by millions of fanatical fans.
This hilarious play, by the multi-awarded English playwright Peter Quilter, premiered in 2005 at the Duchess Theatre in London's West End and was nominated for the Olivier Award Best New Comedy. Since then it has been seen by over two million people in theatres across six continents, becoming a worldwide smash hit.
"A delightful and blissfully funny play that generates a rare glow of warmth and generous laughter." -Daily Telegraph
"Hilarious and touching." - Daily Mail
"A glittering comedy with a heart...lunatically funny" - Sunday Times
"Comically sublime" - The Guardian
Translation : Themis Marsellou
Direction : Themis Marsellou
Production : People Presents
Starring : Katerina Vrana, Giorgos Kapoutzidis, Giorgos Giannibas, Chrisa Klouva, Anna Paspati, Efi Stavropoulou.
THE ARTBASSADOR has licensed the Greek production, on behalf of the playwright PETER QUILTER.