Music
THE ABDUCTION FROM THE SERAGLIO by Wolfgang Amadeus Mozart
03 May 2018- 13 May 2018
INTERNATIONAL OPERA STUDIO PATRAS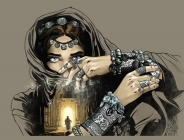 In the frame of performances of the International Opera Studio Patras, the Municipal and Regional Theatre of Patras presented the fabulous opera ''THE ABDUCTION FROM THE SERAGLIO'' by Wolfgang Amadeus Mozart, from 3 to 13 May, directed by Michael Richard Seibel.
Mozart wrote this great opera on 1782 and its premiere was realized in the same year in Vienna on 19th July.
It is an "exotic adventure" of a harem in Turkey of the 16th century. The emotional depth and maturity characterize the exceptional work of Mozart. The kidnapping will be accomplished through a labyrinth of emotions, involving all the characters of the drama.
This work raises questions about existential life experiences such as love, jealousy, frustration, power and greed. Mozart, through this opera, emphasizes the tolerance in other cultural views, attitudes and the coexistence of humanity in different cultures.
The Artbassador provided the Orchestra with the music material of the works on behalf of the Publishing House BREITKOPF & HAERTEL / Germany.