Theatre
ON BEAR RIDGE by Ed Thomas
At the Municipal Theatre of Piraeus, since 3 March! Panhellenic Premiere!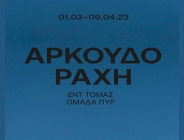 Unable to follow the violently changing world, a shop owner and his wife refuse to leave behind their devastated by war village. Surrounded by a desolated landscape, they arm themselves with the only survival mechanism they possess: memories.
"The Bear ridge", the recent extraodinary play by the Award-winning Welsh writer Ed Thomas, was written in 2019 and immediately premiered at Royal Court Theatre, London, causing a great sensation.
A powerful story about loss, memories, identity and the deep marks imprinted on us, by the places left behind.
Translation: A. Xafis
Direction: I. Voulgaraki
Production: Pyr Theatre
THE ARTBASSADOR has licensed the Greek production, on behalf of Fiction Et Ltd, owner of Ed Thomas' author rights,c/o KNIGHT HALL AGENCY LTD.