Theatre
LA MACHINE DE TURING by Benoit Solès
The absolutely successful play of the season 2021-2022 returns for a second run!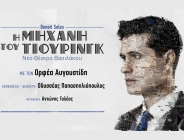 Benoit Solès' emblematic play " La Machine de Turing" thrilled Athenian audiences and critics during the 2021-2022 theatrical season! Now it returns for a second run at Theatre Katerina Vasilakou, since 14 October!
An absolutely inspired performance which thrilled Benoit Solès himself, who after watching the performance commented: Quelle émotion de decouvrir la version Grecque de la Machine de Turing a Athenes. Merci a Drama Suzanne Sarquier et The Artbassador pour cette aventure !
Translation : Adonis Galeos
Direction : Odysseas Papaspiliopoulos
Production : Prime Entertainment Ltd
Starring : Orfeas Avgoustidis
THE ARTBASSADOR has licensed the Greek production, on behalf of the French Agency ''AGENCE DRAMA Suzanne Sarquier'', which represents Benoit Solès' rights in this play and on behalf of the translator of the play A. Galeos.