Music
The Athens State Orchestra honors the music history of Vienna in a unique concert.
09 December 2016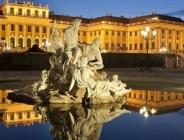 Athens State Orchestra honors the city of Vienna, the European "capital" of music, with a unique concert on December 9 at Christos Lambrakis venue of the Athens Concert Hall. An evening dedicated to all of those great composers who conquered the world with their music works.
The Orchestra executed works by Gustav Mahler, one of the most important post-romantic composers, including the work ADAGIO from the 10th SYMPHONY, the Deryck Cooke version.
Stefanos Tsialis conducted the Orchestra.
THE ARTBASSADOR provided the Orchestra with the music material of the work on behalf of the publishing house G. SCHIRMER INC. USA.