Theatre
MRS KLEIN by Nicholas Wright
Αt Argo Theatre, since 7 October! Second run!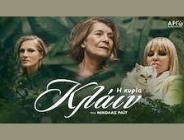 Inspired by the real life of the great Viennese psychoanalyst Melanie Klein, Nicholas Wright's haunting play "Mrs Klein", was presented to the Athenian audience, during the 2021-2022 theatrical season, causing a great sensation. Now it returns for a second run at Argo Theatre, since 7 October!
A genius work, which explores the essential role and efficiency of psychoanalysis, proving that, sometimes, healing personal traumas is a difficult path to follow, even for a professional psychoanalyst… Read more...
Translation : Elsi Sakellaridou
Direction : Chryssa Kapsouli
Production : Argo Theatre
Starring : Aimilia Ypsilandi, Natasa Kalogridi, Sara Eskenazi
THE ARTBASSADOR has licensed the Greek production, on behalf of SOMERSET WEST LTD, right owner of Nicholas Wright's author's rights, c/o JUDY DAISH ASSOCIATES LTD.