Music
MARIA FARANTOURI SINGS MIKIS THEODORAKIS
23 February 2018- 23 February 2018
ATHENS CONCERT HALL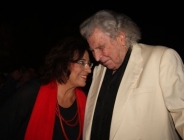 Three landmark works by Mikis Theodorakis were presented on 23 February at the Athens Concert Hall. Mrs Maria Farantouri, famous singer with a special voice and artistic career which is connected to the musical work of Mikis Theodorakis, as well as the famous bass singer Mr Tasos Apostolou performed on stage the following works :
- Romancero Gitano (poetry Federico Garcia Lorca)
- Mithistorima (poetry Giorgos Seferis)
- March of the Spirit (poetry Aggelos Sikelianos)
The State Orchestra under the music direction of the excellent maestro Andreas Pilarinos took off the rich symphonic sound of the great Greek composer Mikis Theodorakis and released the music power of the words through the poetry of Lorca, Elytis, Seferis and Sikelianos.
The Artbassador provided the Orchestra with the music material of the works, on behalf of the Publishing House SCHOTT Music GmbH.