Theatre
LA MARIJUANA DELLA MAMMA E LA PIU BELLA by Dario Fo, Franca Rame, Jacopo Fo
At Ivi Theatre, since 18 October!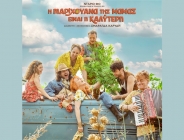 Louis, a college student and user of marijuana and LSD, returns home after a long absence, to find out that his mom and grandfather have acquired some habits similar to his own…
An acclaimed farce, by the great controversial playwright Dario Fo, winner of the 1997 Nobel Prize for literature, in which the genius creator, explores in his unique way the deep social roots of the drug problem.
A hilarious, sharp social satire in a storming, performance, not to be missed!
Translation: E. Tsolakidis
Direction: S. Karidi
Productios: THEATRIKES SKINES
THE ARTBASSADOR has licensed the Greek production, on behalf of the Italian Collecting Society SIAE , which represents the rights of Dario Fo, Franca Rame and Jacopo Fo in this play.