Theatre
FUGA by Jordi Galceran SUMMER TOUR
At Lampeti Theatre & summer tour throughout Greece, since 22 June!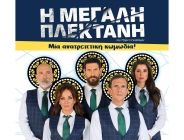 The minister Isidro Galliana, implicated in a financial scandal, resigns and contemplates suicide in his luxury villa. Before that, he wishes to enjoy the company of a love... professional. But she won't be the only one to show up... One by one, a bevy of unusual characters will visit him, giving rise to a series of complicated incidents and unexpected twists…
"Fuga", by the multi award-winning playwright Jordi Galcerán, one of the most successful and renowned Catalan playwrights, globally famed for "The Grönholm Method", is a classic comedy, in which ''nothing is what it seems''. An ingenious work with witty dialogues and surprising plot shrouded in mystery, which will keep audiences hooked from the very first moment!
Translation : Maria Chatziemmanouil
Direction : Stavros Stagos
Production : EROFILI PRODUCTIONS
Starring : Leonidas Kakouris, Dimitra Matsouka, Charis Grigoropoulos, Thanasis Patriarcheas, Katerina Nikolopoulou.
THE ARTBASSADOR has licensed the Greek production, on behalf of the Agency Marta Fluvia Agencia Teatral, which represents the playwright Jordi Galceran and on behalf of the translator of the play Maria Chatziemmanouil.