Theatre
LA MACHINE DE TURING by Benoit Solès
Inspired by Hugh Whitemore's successful production ''BREAKING THE CODE" based on ALAN TURING:THE ENIGMA by Andrew Hodges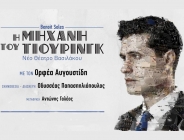 The incredible destiny of Alain Turing, the English mathematician who broke the German Enigma code during World War II, by building a "thinking machine" that will eventually become the first computer. Under obligation of silence by the secret services, he is accused of homosexality and ends up commiting suicide by biting into a poisonous apple...
Have you ever had a secret, a big secret? Of all intangible things, silence is one of the heaviest to bear. And precisely, my life was filled with secrets... Have you ever heard of the Enigma? Of course not, how could you?
4 AWARDS AT THE MOLIERE 2019 So now is the time to pay close attention. "
Translation : Adonis Galeos
Direction : Odysseas Papaspiliopoulos
Production : Prime Entertainment Ltd
Starring : Orfeas Avgoustidis
THE ARTBASSADOR has licensed the Greek production, on behalf of the French Agency ''AGENCE DRAMA Suzanne Sarquier'', which represents Benoit Solès' rights in this play.