Theatre
TΗE LONESOME WEST by Martin McDonagh
At Athinon Theatre, since 7 October!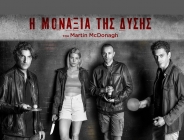 Living alone in their father's house after his recent death, two brothers find it impossible to co-exist without constant, violent disputes over the most mundane of topics. Only the local young priest and an enthusiastic girl might be able to help them to avoid a vicious carnage. Or maybe not?
Oscar Award-winning director, screenwriter and playwright Martin McDonagh, has achieved considerable critical acclaim worldwide. His works are known and loved by both theatre and film audiences alike and he is widely considered one of the major playwrights of his generation. His play ''The Lonesome West" is one more masterpiece work. A cruel and at the same time sensitive, dark story, with great humor and unique suspense.
Translation : L.Zafiropoulou
Direction : N. Kouris
Producer : K. Pavlakis
THE ARTBASSADOR has licensed the Greek production, on behalf the Agency Knight Hall Agency Ltd, which represents the playwright Martin McDonagh's rights in this play.