Theatre
THE NIGHT OF THE IGUANA by Tennessee Williams
28 November 2021
Αt Poreia Theatre via Live streaming!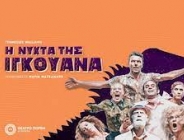 Coast of Mexico, 1940. A particular group of travelers, lost souls come together in Maxin's hotel. Tragic heroes, carrying their desperation, personal impasses and demons, which will lead them in an astounding battle between body and soul, freedom and captivity, while struggling for redemption...
We are all sentenced to solitary confinement inside our own skins, for life. Tennessee Williams
Sensual and poetic, The Night of the Iguana (1961), is widely regarded as the last of the distinguished American playwright's major artistic works. It premiered on Broadway at the Royale Theatre in 1961 and was awarded the 1962 New York Drama Critics' Circle Award for best play. One more timeless classic by one of the greatest playwrights in American history!
Translation : Maria Maganari
Direction : Maria Maganari
Production : DOLIXOS
Starring : Dimitra Vlaggopoulou, Vicky Katsika, Sirmo Keke, Maria Kechagioglou, Petros Malamas, Giorgos Biniaris, Ioannis Papazisis.
THE ARTBASSADOR has licensed the live streaming of the performance at Poreia Theatre, on behalf of THE UNIVERSITY OF THE SOUTH, which represents Tennessee Williams author's rights, c/o CASAROTTO RAMSAY & ASSOCIATES.