Theatre
THE NIGHT OF THE IGUANA by Tennessee Williams
At National Theatre of Northern Greece, since 28 October!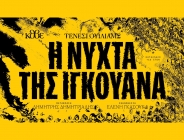 Coast of Mexico, 1940. A particular group of travelers, lost souls arrive at Maxin's hotel. Tragic heroes, carrying their desperation, personal impasses and demons, which will lead them in an astounding battle between body and soul, freedom and captivity, while struggling for redemption...
Sensual and poetic, "The Night of the Iguana" (1961), is widely regarded as the last of the distinguished American playwright's major artistic works. It premiered on Broadway at the Royale Theatre in 1961, winning the 1962 New York Drama Critics' Circle Award for best play.
One more timeless classic by one of the greatest playwrights in American history!
Translation: D. Dimitriadis
Direction: E. Gasouka
Production: National Theatre of Northern Greece
THE ARTBASSADOR has licensed the Greek production, on behalf of THE UNIVERSITY OF THE SOUTH, which represents Tennessee Williams author's rights, c/o CASAROTTO RAMSAY & ASSOCIATES.