Music
The opera AIDA at the Thessaloniki Concert Hall
15 October 2016- 19 October 2016
Thessaloniki Concert Hall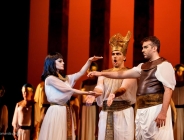 The emblematic opera AIDA in four acts, with music by Giuseppe Verdi and the libretto of Antonio Ghislanzoni, is presented by the Organisation of the Thessaloniki Concert Hall, with surtitles in Greek language, in the frame of the 51st Dimitria Festival, in collaboration with SKULL OF YORICK PRODUCTIONS, at the main stage of the Thessaloniki Concert Hall, for three performances on 15, 17 and 19 of October.

Charming arias and thrilling duets. Impressive large crowd scenes and triumphal notes of the most famous work of lyric theatre. More than 200 artists, such as actors, musicians, soloists, singers, dancers, collaborate to give life to this emblematic opera. The director is Mrs. Zamira Pasceri. The Symphony Orchestra of the Municipality of Thessaloniki is conducted by Dariusz Mikulski on the 15th of October and by Haris Iliadis on the 17th and 19th of October. With the participation of musicians of MOUSA and the Military Music Ensemble of the 3rd Corps of Army "MEGAS ALEXANDROS", as well as of the mixed choir of Thessaloniki "Mary Konstantinidou". The role of Aida is entrusted to the soprano Sofia Mitropoulou.

The Artbassador provided the Organisation of the Thessaloniki Concert Hall with the music material from Music Gifts Company.