Theatre
PIEGE POUR UN HOMME SEUL by Robert Thomas
At Zina Theatre since 13 October!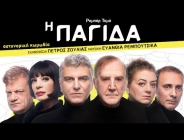 When a woman returns from a mysterious disappearance, she finds her husband insisting she is not his wife yet everything seems to prove the contrary!
Madness or diabolical plot? Who is the victim ? Who is telling the truth?
Widely regarded as a milestone in the mystery thriller genre, Robert Thomas' psychological thriller, shrouded in mystery, an extraordinary plot and a killer twist at the end, thrilled Alfred Hitchcock who bought the rights with the intention to transfer the play in the big screen.
Translation: Adonis Galeos
Direction : Petros Zoulias
Music : Evanthia Reboutsika
Production : Theatrical Enterprises Tagaris
Starring : Vladimiros Kyriakidis, George Konstantinou, Efi Mouriki, Maria Antoulinaki, Konstantinos Giannakopoulos,Takis Papamattheou.
THE ARTBASSADOR has licensed the Greek production, on behalf of the French Collecting Society SACD, which represents Robert Thomas' rights in this play.