Theatre
PIEGE POUR UN HOMME SEUL by Robert Thomas
The entirely successful performances of the season 2021-2022, continue for a second run at Zina Theatre, since 5 October!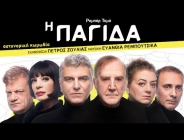 After its great success during the theatrical season 2021-2022, Robert Thomas' acclaimed psychological thriller ''Piège pour un homme seul", returns for a second run at Zina Theatre, since 5 October!
Widely regarded as a milestone in the mystery thriller genre, Robert Thomas' iconic play, shrouded in mystery, an extraordinary plot and a killer twist at the end, thrilled Alfred Hitchcock who bought the rights with the intention to transfer the play in the big screen.
Translation : Adonis Galeos
Direction : Petros Zoulias
Music : Evanthia Reboutsika
Production : Theatrical Enterprises Tagaris
Starring : Vladimiros Kyriakidis, George Konstantinou, Efi Mouriki, Maria Antoulinaki, Konstantinos Giannakopoulos,Takis Papamattheou.
THE ARTBASSADOR has licensed the Greek production, on behalf of the French Collecting Society SACD, which represents Robert Thomas' right owners.