Theatre
COMPANY by Stephen Sondheim
08 July 2018- 09 July 2018
Kamerata meets the symphonic masterpiece in the frame of the Athens Festival 2018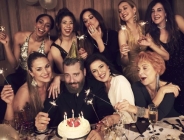 In music conducting, translation and direction of the Grammy nominee and Echo Klassik winner George Petrou, ARMONIA ATENEA shall present for the first time in Greece the masterpiece musical COMPANY, in music and lyrics by the outstanding Stephen Sondheim and text by George Furth, in two exceptional performances at Herodus Atticus Odeon.
The musical was first presented in Broadway in 1970. It has received six Tony Awards, five Drama Desk Awards and one Theatre World Award.
On the occasion of Bobby's birthday, his friends organize for him a surprise party with a lot of funny and moving moments, based on modern love relationships. Sondheim with his masterful music, his complicated musical language combined with the impressive symphonic orchestra of George Petrou, take off the intelligent dramaturgy of the work.
George Petrou also chose a selected cast of beloved actors such as Natalia Tsaliki, Anna Koutsafeti and Katerina Papoutsaki. From the opera area, Myrsini Margariti, Eleni Stamidou, Mary Eleni Nezi, Dimitris Nalbantis, Christos Kechris, Haris Andrianos, Giannis Kalivas, Xenia Dania and Maria Kosmatou.
These performances are expected to be from the best moments of this summer at Herodus Atticus Odeon, on the 8th and 9th of July.
THE ARTBASSADOR has granted the license for the performance and the music material of the work, on behalf of Music Theatre International (Europe) (www.mtishows.eu)