Theatre
LE MALENTENDU by Albert Camus
At The Art Theatre Karolos Koun, since 3 February!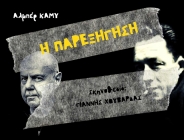 After having lived abroad for many years, a man returns home without revealing his identity, to reconnect with his mother and sister. A fatal decision which will cost him his life; murdered by his own family due to a misunderstanding…
Written during the Nazi occupation of France in 1943, this emblematic work, by the legendary philosopher and dramatist Albert Camus, winner of the 1957 Nobel prize literature, is an outstanding and deep examination of man's eternal conflict with fate.
An incredible allegoric story about the absurdity of human existence, the pursuit of illusory happiness and the disastrous consequences of lack of communication, which remains as relevant as ever!
Translation: M. Kalbari
Direction : Y. Houvardas
Production: THE ART THEATRE K. KOUN
THE ARTBASSADOR has licensed the Greek production, on behalf of the French Collecting Society SACD, which represents Albert Camus' rights in this play.