Theatre
THE MOUSETRAP by Agatha Christie
Αt Dionysos Theatre, Cyprus, since 19 November!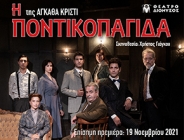 A group of people gathered in a remote English country house during a snowstorm discover, to their horror, that there is a murderer in their midst. Who could be the killer? And who will be the next victim?
Brimming with intrigue, sophisticated humor and surprising twists, Agatha Christie's iconic murder mystery is the world's longest-running play. Having run consistently from 1952 until today, it became one of Agatha's most famous works. An exceptional piece which continues to intrigue mystery lovers of all ages, keeping audiences in the dark until the unexpected ending!
Translation : Adonis Galeos
Direction : Christos Yiangou
Production : Dionysos Theatre-Cyprus
Starring : Ioanna Papamichalopoulou, Markos Kallis, Christos Spyrou, Elena Papadopoulou, Christos Yiangou, Martha Konstantinou, Manolis Michailidis, Grigoris Georgiou.
THE ARTBASSADOR has licensed the Cypriot production, on behalf of Mousetrap Productions c/ o Aitken Alexander Associates, which represents Agatha Christie's rights in this play and on behalf of the translator of the play Adonis Galeos.