Theatre
THE CANE by Mark Ravenhill
At Amfitheatro Spyrou Evangelatou, since 17 February! Panhellenic Premiere!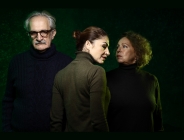 While Edward, a popular and dedicated teacher, is looking forward to the imminent celebration marking his retirement, he will find his home under siege by a mob of angry students, protesting against him. But why would they attack him?
Tense and thought provoking, "The Cane", the recent play by Mark Ravenhill, had its world premiere at London's Royal Court Theatre in 2018, thrilling audiences and critics. With its sharp pen, " l' enfant terrible" of British Theatre dives into his favorite themes of social norms and public opinion, exploring the power abuse, the familial and institutional brutality and the role of violence in our society.
An intriguing and powerful story, in an absolute must see performance!
Translation: G. Skevas
Direction: G. Skevas
Production: LYKOFOS
THE ARTBASSADOR has licensed the Greek production, on behalf of the Agency JUDY DAISH, which represents Mark Ravenhill's rights in this play.