Theatre
THE MIDNIGHT GANG by David Walliams SECOND RUN
At Theatre Anesis, since 22 October!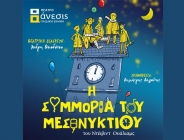 Funny, touching and spirited, "The Midnight Gang", by the British comedian, actor and author, David Walliams was succesfully presented during the theatrical period 2022-2023, thrilling young audiences! Now the beloved play, returns for a second run at Anesis Theatre, since 22 October!
Full to the brim with heart-warming characters and witty humour, this Walliams' classic is an extraodinary story of magic, friendship and of making dreams come true, in an inspired performance which promises to take fans on an unmissable midnight adventure!
.Translation : A. Theodotou
Direction : D. Degaitis
Production : MYTHODIA
THE ARTBASSADOR has licensed the Greek production, on behalf of the Agency Independent Talent Group Ltd, which represents David Walliams' rights in this play.