Theatre
ΜΑTCH by Stephen Belber
At Amalia Theatre, Thessaloniki, since 8 December!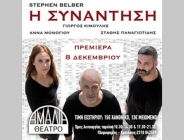 When a reclusive, aging dancer and choreographer decides to give an interview to a young couple, his seemingly quiet life will be overturned. What starts as a simple meeting will quickly turn into a dramatic game of memories, revealing the past and a deeply hidden secret.
"Match", a witty, modern drama, by the American playwright Stephen Belber made its Broadway debut in 2004, starring Frank Langella, Ray Liotta και Jane Adams. Ten years later the play was adapted by Berber into the 2014 famous film "Match", starring Sir Patrick Stewart, Carka Gugino and Matthew Lillard.
A deeply moving story about the power of the past, which always remains alive and present!
Translation: G. Kimoulis
Direction: G. Kimoulis
Production: POLIS POLITISMOU
THE ARTBASSADOR has licensed the Greek production, on behalf of "BELBER INC", Stephen Belber's right owner, c/o CONCORD THEATRICAL CORPORATION.