Theatre
THE LEHMAN TRILOGY by Stefano Massini
At Ilisia Theater, since 4 October!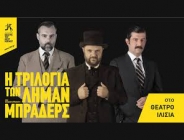 On a cold September morning in 1844 a young man from Bavaria stands on a New York dockside, dreaming of a new life in the new world. He is joined by his two brothers and an American epic begins. 164 years later, the firm they establish – Lehman Brothers – spectacularly collapses into bankruptcy, and triggers the largest financial crisis in history.
Spanning three generations and 150 years, The Lehman Trilogy is a moving epic about a family and a company that changed the world.Surprising and exciting, brilliant and inventive, Stefano Massini's masterpiece is a story of immigration, ambition, and success; it is the story of America itself!
Translation : Koralia Sotiriadou in cooperation with Aggeliki Kokkoni
Direction : Vaggelis Theodoropoulos
Production : NEOS KOSMOS THEATRE
Starring : Makis Papadimitriou, Argyris Xafis, Michalis Oikonomou
THE ARTBASSADOR has licensed the Greek production, on behalf of the Italian Collecting Society SIAE which represents the playwright Stefano Massini.