Theatre
HOMOS, OR EVERYONE IN AMERICA by Jordan Seavey
In Panhellenic premiere, at Apomixanis Theatre since 6 December!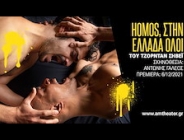 A first date at a bar will lead two young men on a kaleidoscopic journey through love, uncertainty and the extremes of human kindness and cruelty. But is love enough? What does it mean to be in a committed relationship? Is monogamy just monotony?
A tender, funny and provocative play by Jordan Seavey, which masterly portrays the emotions, attitudes and prejudices that sit at the heart of every relationship across the world. Premiered off-Broadway in 2016, "Homos, or Everyone in America" was named one of New York Magazine's 10 Best Theatre Events of 2016, enjoying huge success and numerous productions throughout the world. A brilliant play that everyone should see!
Direction : Adonis Galeos
Translation : Adonis Galeos
Production : ART MACHINE PRODUCTION
Starring : Spyros Detsikas, Faidon Farid, Konstantinos Hilas, Danai Omoregie
THE ARTBASSADOR has licensed the Greek production on behalf of the Agency UNITED AGENTS LLP, which represents the rights of Jordan Seavey in this play.