Music
IDOMENEO, RE DI CRETA by Wolfgang Amadeus Mozart
26 March 2022- 01 April 2022
AT THE ATHENS OLYMPIA MUNICIPAL MUSIC THEATER "MARIA CALLAS"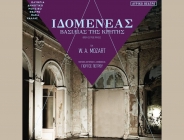 The emblematic opera Idomeneo, Re Di Creta", by Wolfgang Amadeus Mozart, is presented at the Olympia Municipal Music Theater" Maria Callas", under the music and stage direction of the internationally renowned Greek award-winning conductor George Petrou!
"One of those works that even a first-class genius like Mozart manages only once in his lifetime." That is how Albert Einstein defined Idomeneo, Mozart's third venture into the "opera seria". A gorgeous piece of theatrical integrity characterized by a dramatic continuity and constant action, rich in divine music.
Mozart's masterpiece, a new production by the Athens' Culture-Sports and Youth Organization, OPANDA, is performed by the Greek Radio National Symphony Orchestra and the Choir of the Municipality of Athens, accompanied by a brilliant international cast, with the Polish tenor Krystian Adam in the leading role.
The Artbassador, provided the Orchestra with the music material of the work, on behalf of the Publishing House Αlkor Edition Kassel.