Theatre
INTO THE WOODS Sondheim & Lapine
08 February 2020- 16 February 2020
GREEK NATIONAL OPERA ALTERNATIVE STAGE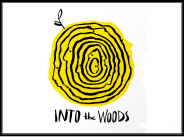 The legendary composer and lyricist of musical theater Stephen Sondheim and great author James Lapine's timeless masterpiece and multi-awarded musical Into the Woods will receive its Greek premiere at the Greek National Opera's Alternative Stage in the approved version for piano and percussion.
First premiered at the Old Globe Theatre in San Diego in 1986, honored with three Tony awards (1988) and triumphed on Broadway and West End, this rare modern classic musical continues to enchant audiences across the world thanks to its unsurpassable music and its hauntingly beautiful story.
The most familiar characters of Brothers Grimm, Charles Perrault and the Walt Disney culture get deeply lost into the woods of their desires, wishes and consequences of their choices. Red Riding Hood, Cinderella, Jack and his beanstalk and Rapunzel are all involved in a dark coming-of-age story with unexpected twists, just like in real life. And when it is time for 'The end' they know that getting what you wish for doesn't always end happily ever after.
This epic fairytale, full of enrapturing melodies, constant overturns, disarming humour and an emotive atmosphere, comes to the GNO Alternative Stage in a great production under the musical direction of conductor Stathis Soulis. The direction and translation bear the stamp of the charismatic and creative Dimitris Bogdanos and lyrics' rendition is signed by Julia Diamantopoulou. Cast: Nandia Kontogeorgi, Hara Kefala, Apostolis Psychramis, Maria Grampsa, Daphne David, Ioannis Kontellis, Lefteris Kalpaktsidis, Thanos Lekkas, Danai Moutsopoulou, Dimitris Bogdanos, Olga Papakonstantinou, Lydia Tzanoudaki
The Artbassador has licnsed the Greek production, on behalf of the Agent MUSIC THEATRE INTERNATIONAL Europe.