Theatre
HISTORIA DE UN PERRO LLAMADO LEAL by Luis Sepúlveda
At Alfa Theatre, since 12 October! Second run!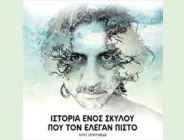 After repeated sold outs and rave reviews during the 2021-2022 theatrical period, Louis Sepulveda's masterpiece, returns now for a second run!
The play brings to light the shocking story of the indigenous people of southern Chile, the Mapuche, and their struggle against the local government, to preserve their home and protect the natural environment, through the narrative of a dog who recounts the life he lived with them.
A poetic, pure hymn to friendship, strength and loyalty dedicated to every struggling human being!
Translation : A. Kyriakidis
Direction : K. Gakis
Production : ANAM MA THEATRE COMPANY
THE ARTBASSADOR has licensed the Greek production, on behalf of YAGANES PRODUCCIONES S.L, right owner of Luis Sepúlveda's author's rights, c/o AGENCIA LITERARIA CARMEN BALCELLS SA .