Theatre
SUDDENLY LAST SUMMER by Tennessee Williams
At Neos Akadimos Theatre, since 16 October!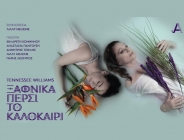 Something unspeakable happened last summer. And now, the dashing Sebastian Venable is dead. While his young cousin, having witnessed his shocking death, is desperate to reveal the horrible truth, his mother is determined to stop her and protect Sebastian's reputation at any cost!
Premiered off Broadway in 1958, this darkly poetic drama is considered one of Tenneessee Williams's most haunting works. A deep exploration of the darker side of human nature, with a shocking tale at its heart!
Τranslation: A. Galeos
Direction: L. Meleme
Production: HAPPY PRODUCTIONS
THE ARTBASSADOR has licensed the Greek production, on behalf of THE UNIVERSITY OF THE SOUTH, which represents Tennessee Williams author's rights, c/o CASAROTTO RAMSAY & ASSOCIATES.