Theatre
JESUS CHRIST SUPERSTAR in lyrics by Tim Rice and music by Andrew Lloyd Webber
One of the most spectacular musicals worldwide!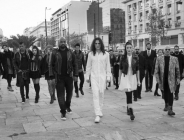 The world's first rock opera, staged on Broadway (1971) and then on West End in London (1972). A great success in 42 countries, translated in 20 different languages, multi-awarded with Tony, Grammy, Olivier, Bafta, Drama Desk Award, Theater World Award and in 1974, Oscar and Golden Globe Awards.
The great production of this classic 'Jesus Christ Superstar' musical in lyric by Tim Rice and music by Andrew Lloyd Weber, is being staged at Akropol Theatre in Athens, since 8 February, in translation and direction by Themis Marsellou, with 30 actors, singers, stage dancers and a 10-member live orchestra. We expect it to speak to our hearts for Jesus' last week on earth, seen through the eyes of Judas Iscariot and remind us the meaning of true love.
In the role of Jesus, Emilianos Stamatakis and in the role of Judas, Isaiah Matiaba. Starring also: Ivi Adamou, Antigoni Psychharmi, Nikos Moutsinas, Vassilis Axiotis, George Zacharopoulos, Stelios Kelleris, Konstantinos Frantzis, Marios Petkidis, Giorgos Giannibas, Apostolos Kitsos, Yannis Zaragalis, Antonis Vlachos, Stavros Bekas, Haris Mosaidis, Emilios Mosaidis, Petros Ioannou, Raphael Kritoulis, Vangelis Kraniotis, Phaidon Farid, Maria Kosmatou, Nia Balafa, Katerina Kisti, Ioanna Choutri, Angela Sidiropoulou, Elena Stratigopoulou, Alexandra Karakatsani.
THE ARTBASSADOR has licensed the Greek production, on behalf of the UK Agent THE REALLY USEFUL GROUP LTD (www.reallyuseful.com)