Theatre
AND THEN THERE WERE NONE by Agatha Christie
A timeless masterpiece!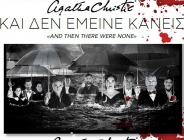 Agatha Christie's unique masterpiece "And Then There Were None", production of " HAPPY LIGHT PRODUCTIONS", the most popular novel of all time, is being hosted at the stage of Neos Akadimos for the second time in its long history, the first being in 1963, since October 14, directed by Reina Eskenazy and translated by Adonis Galeos.
First published in November 1939, it is the story that made Agatha Christie the best-selling novelist of all time. The work was first performed by Agatha Christie herself in 1943 and two years later it was adapted for cinema under the direction of René Clair. Since then, the beloved novel has become her most adapted work and never ceases to intrigue both readers and viewers alike. In 2015 ''And Then There Were None'' was voted the World's Favorite Christie in a global vote to mark Agatha Christie's 125th anniversary.
The whole thing is utterly impossible and utterly fascinating.
It is the most baffling mystery Agatha Christie has ever written.
-New York Times
Ten strangers find themselves cut off the mainland on an isolated rock off the Devon coast, invited by an unknown host. Each of them has a secret to hide and a crime for which they must pay. One by one they are picked off. Who will survive? And who is the killer? Copies of an ominous nursery rhyme hang in each room, the murders mimicking the awful fates of its 'Ten Little Soldier Boys'.
Starring: Argiris Aggelou, Pavlos Evaggelopoulos, Vasilis Eftaxopoulos, Aris Lempesopoulos , Nicolas Bravos, Gogo Mprebou,Polyxeni Mylona, Dimitris Rafailos, Filippos Sofianos, Tzouli Tsolka .
THE ARTBASSADOR has licensed the Greek production on behalf of AGATHA CHRISTIE LTD (ACL), which represents Agatha Christie's rights in this play.