Theatre
SOMEONE WHO'LL WATCH OVER ME by Frank McGuinness
At Avlaia Theatre, since 11 November! Panhellenic Premiere!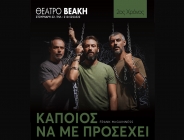 Struggling for survival, three men of different nationalities who are kidnaped and held captive in Lebanon, will find the strength to endure, overcoming their differences and fear, through their blooming friendship, imagination and humor!
Inspired by Brian Keenan's kidnap and captivity in Lebanon in the 1980's, Frank McGuinness's immersive play premiered at the Hampstead Theatre, London in 1992, before transferring to West End and later on Broadway, where it was awarded the 1993 New York Drama Critics' Circle Award for Best Foreign Play.
An outstanding story and an absolute hymn to the unique power of human bond and spirit!
Translation: A. Karagiannopoulou
Direction: A. Karagiannopoulou
Production: AVLAIA THEATRE
THE ARTBASSADOR has licensed the Greek production, on behalf of the Agency Casarotto Ramsay & Associates, who represents Frank McGuinness' rights in this play.