Theatre
TUESDAYS WITH MORRIE by Jeffrey Hatcher & Mitch Albom
The Athens' successful production travels to Aristoteleion Theatre, Thessaloniki, since 18 November!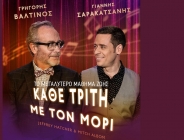 Sixteen years after graduation, career-obsessed journalist Mitch reunites with his former college professor and mentor, Morrie, who faces his own mortality as an ALS patient. What starts as a simple visit turns into a weekly pilgrimage and an astonishing last class in the meaning of life.
''Tuesdays With Morrie'', a 2002 stage adaptation by Mitch Albom and Jeffrey Hatcher, is based on Mitch Albom's best-selling memoir (1997), a heart-warming book which has sold more than fourteen million copies and has been translated in more than 45 languages.
Translation : Ζafeiris Haitidis, Nikorestis Haniotakis, Grigoris Valtinos
Direction : Nikorestis Haniotakis
Production : APOICHOS – ART AND CULTURE / Theasis – Draseis Politismou
THE ARTBASSADOR has licensed the Greek production, on behalf of the Αgency JOSEF WEINBERGER LTD, which represents the rights of Jeffrey Hatcher & Mitch Albom in this play.