Theatre
KILLER JOE by Tracy Letts
In Panhellenic premiere, at Emporikon Theatre since 24 November!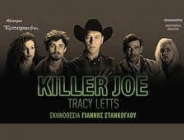 Hired by the dissolute Smith family to murder their estranged matriarch for the insurance money, Killer Joe, a police detective and contract killer, accepts their innocent daughter Dottie as "retainer" against his final payoff, a decision which will spiral the plan out of control…
"Killer Joe", by the multifaceted award-winning actor and playwright Tracy Letts, premiered at the Next Lab Theater in Chicago in 1993 and quickly became a must-see work, enjoying a following successful ran in Edinburgh Fringe Festival and many acclaimed productions in London and New York. A tense, blackly comic thriller, sharply realistic and cleverly plotted which keeps audiences hooked from the very first moment!
Translation : Giannis Sakaridis, Denis Nikolaou
Direction : Giannis Stankoglou
Production : TEXNIXOROS
Starring : Giannis Stankoglou, Kostas Nikouli, Konstantinos Siradakis, Dimitra Limniou, Natalia Swift
THE ARTBASSADOR has licensed the Greek production, on behalf of the Agency A3 ARTISTS AGENCY, which represents the rights of Tracy Letts in this play.