Music
MAHLER CYCLE VI
20 April 2018- 20 April 2018
CONCERT OF THE ATHENS STATE ORCHESTRA AT THE ATHENS CONCERT HALL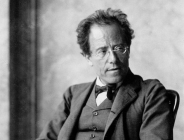 The Athens State Orchestra presented the famous masterpiece 'Symphonie no.5' by the great Austrian composer Gustav Mahler.
A long adventurous journey, along the paths of the human soul, under the music direction of the award-winning German conductor Matthias Foremny.
The Artbassador provided the Orchestra with the music material of the work, on behalf of the Publishing House C.F. PETERS LTD & CO KG.