Theatre
LEMONS LEMONS LEMONS LEMONS LEMONS by Sam Steiner
A sensational play about the beauty and preciousness of language!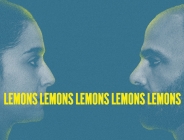 The smart unconventional play by the young playwright Sam Steiner's "LEMONS LEMON LEMONS LEMONS LEMONS", portrays a dystopian story about a world where we're forced to say less. A world in which every word is counted and must be chosen carefully.
This is Oliver and Bernadette's world — a world not unlike ours. When the British government introduced a "Quietude Bill", a new law which limits every citizen's speech to 140 words a day, the young couple struggle to express themselves. Now every word matters more than ever before. How can they navigate their relationship and keep their bond alive in a society that no longer permits free speech?
Sam Steiner's compelling play, premiered at Warwick Arts Centre in 2015 and won three Judges' Awards at the National Student Drama Festival, before appearing at Latitude Festival, the Edinburgh Festival Fringe, where it received rave reviews and multiple awards and subsequently at Camden People's Theatre, London.
Following its acclaimed success "LEMONS LEMON LEMONS LEMONS LEMONS" is presented in Cyprus premiere, on 5 March 2021, at ARTos Foundation/ Nicosia, Cyprus, in collaboration with the production company "Fresh Target Theatre Ensemble" translated by Konstantinos Kritsis and directed by Maria Varnakidou, starring the talented actors Andria Zeniou and Mario Konstantinou.
THE ARTBASSADOR has licensed the Cypriot production on behalf of the Agency United Agents LLP, which represents the playwright Sam Steiner.