Theatre
A STREETCAR NAMED DESIRE byTennessee Williams
At National Theatre of Greece-Ziller Building, since 12 November!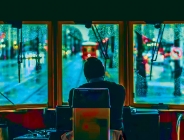 Broken dreams, hidden passions, social and personal perceptions, truth and delusion, hope and despair of the American South, "crowded" into a streetcar named Desire...
This epic masterpiece established Tennessee Williams as one of the world's most important writers. It premiered in New York (1947), under the direction of Elia Kazan, winning the Pulitzer Prize. In 1951, it became a worldwide success when it was adapted for the big screen, by the same director, starring Vivien Leigh and Marlon Brando. Since then, it has been produced innumerable times around the world and is considered one of the most critically acclaimed plays of the 20th century.
I don't want realism, i want magic! -Blanche DuBois
Translation: Thanassis Sarantos
Direction : Thanassis Sarantos
Starring : Angelos Andriopoulos, Ieronymos Kaletsanos, Idra Kayne, Lambros Ktenavos, Nikolas Makris, Penelope Markopoulou, Nancy Boukli, Konstantina Takalou, Apostolos Totsikas, Grigoris Freskos
THE ARTBASSADOR has licensed the Greek production, on behalf of THE UNIVERSITY OF THE SOUTH, which represents Tennessee Williams author's rights, c/o CASAROTTO RAMSAY & ASSOCIATES.