Theatre
MACHINAL by Sophie Treadwell
At Cyprus Theatre Organisation, Νew Stage, since 8 April!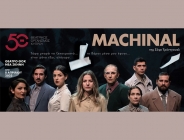 Based on a real life case, which shocked the American society in the early 20th century, "Machinal", follows the life and the tragic end of a woman, who, suffocating under societal pressure, is desperately trying to resist the life that others expect her to live.
Captivating and intense, Sophie Treadwell's expressionist masterpiece "Machinal" examines the dependent status of women in an increasingly mechanised society. The play premiered in Broadway (1928), and was later revived in a landmark production at the UK's National Theatre in 1993. It is considered one of the high-points of Expressionist theatre on the American stage.
Translation : Giorgos Depastas
Direction : Avra Sidiropoulou
Production : Cyprus Theatre Organisation-THOC
Starring : G. Anagiotos, F. Apostolidis, Ch. Konstantinou, P. Makris, G. Tatsi, K. Tsitsios, M. Chana, M. Christodoulou
THE ARTBASSADOR has licensed the Cypriot production, on behalf of the Agency Nick Hern Books Ltd, which represents Sophie Treadwell's rights in this play.