Theatre
MADAGASCAR, A MUSICAL ADVENTURE SUMMER TOUR
Τhe beloved, famous musical, travels throughout Greece, since 3 July!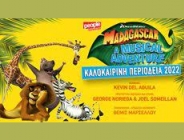 Based on the smash hit DreamWorks' animated motion picture and featuring a book by Kevin Del Aguila, Music & Lyrics by George Noriega & Joel Someillan, the famous musical "Madagascar, A Musical Adventure" after thrilling the Athenian audiences, continues on summer tour throughout Greece!
Join the famous, beloved heroes to their incredibly hilarious journey and escape to a musical adventure of a lifetime!
Thanks to an impressive cast of actors, a talented creative team and an upbeat score, the audience will enjoy an incredibly entertaining show full of energy, laughter and emotion, having no choice but to "Move It, Move It!"
Translation : Themis Marsellou
Direction : Themis Marsellou
Production : PEOPLE PRESENTS
THE ARTBASSADOR has licensed the Greek production of the musical, on behalf of the Agency MUSIC THEATRE INTERNATIONAL EUROPE.