Theatre
MADAGASCAR, A MUSICAL ADVENTURE by Kevin Del Aguila
At Rialto Theatre, since 2 April!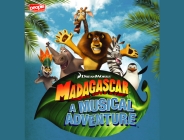 Join Alex the Lion, Marty the Zebra, Melman the Giraffe, Gloria the hip hip Hippo and those hilarious, plotting penguins, as they bound out of the zoo and onto the stage, in the musical adventure of a lifetime!
Based on the smash hit DreamWorks' animated motion picture and featuring a book by Kevin Del Aguila, Music & Lyrics by George Noriega & Joel Someillan, "Madagascar, A Musical Adventure" follows the incredibly hilarious journey of our beloved heroes to the madcap world of King Julien's Madagascar.
Thanks to an impressive cast of actors, a talented creative team and an upbeat score, the audience will enjoy an incredibly entertaining show full of energy, laughter and emotion, having no choice but to "Move It, Move It!"
Translation : Themis Marsellou
Direction : Themis Marsellou
Production : PEOPLE PRESENTS
THE ARTBASSADOR has licensed the Greek production of the musical, on behalf of the Agency MUSIC THEATRE INTERNATIONAL EUROPE.