Theatre
MAMMA MIA!
The magnificent greek production at Akropol Theatre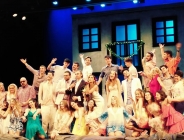 Over 60 million people have attended a performance of the musical, which became an enormous success in Broadway and West End. Mamma Mia!, written by the British playwright and screenwriter Catherine Johnson, in lyrics and music by Benny Andersson and Bjorn Ulvaeus, one of the most successful and popular musicals of all time, based on the glorious songs of ABBA and the carefree decade of the 70s has reached "its island" in Greece, in greek language for the first time!
Thanks to an impressive cast and a talented creative team, a magnificent show, full of energy, joy, but emotion as well, is being presented on the stage of Akropol theatre / Athens. THEAMA AKROPOL Production Company has entrusted the translation / adaptation of the book and the lyrics in greek language and certainly, the direction of the show to the greatly experienced Themis Marsellou. Moreover, Ilias Kaloudis undertook the music teaching and orchestra conducting, Manolis Pantelidakis the set designs, Anna Athanasiades the choreographies, Panagiota Kokkorou the costume designs, Lefteris Pavlopoulos the lightning and Karolos Porfyris the video design and projections.
Previews of this spectacular production, with a 45-member cast and live orchestra, started on 8th of December, 2016. The official premiere is expected in the first fortnight of January, 2017.
Leading actors: Despina Vandi, in the role of Donna, in a brilliant first-time appearance in a musical, the delightful Betty Maggira and Mariella Savvidou as Tanya and Rosie respectively, Akis Sakellariou, Argiris Aggelou and Alexandros Bourdoumis, in the role of the three possible fathers Sam, Harry and Bill respectively and the beloved, full of freshness, Demy and Aris Makris as Sophie and Sky. Worth mentioning are also the three little girls Adamantia Mastrodouka, Georgia Mastrodouka and Zoe Petrakis in the role of Sophie in her childhood, as well as the young performers of the ensemble, who succeed in thrilling us with their singing and dancing!

THE ARTBASSADOR has been very happy and honored to have licensed the greek production of the show, on behalf of the US Agent MUSIC THEATRE INTERNATIONAL (MTI).