Theatre
LES NENES NO HAURIEN DE JUGAR AL FUTBOL by Marta Buchaca
At 104 Theatre, since 31 January!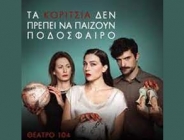 A car accident brings to surface the secret lives of three people. Waiting in the hospital room, their relatives find themselves wondering: How did they know each other? Why did they keep their relationship a secret? And after all how well do we really know our own family?
Masterly exploring the emotional crisis in human relationships, the award winning Catalan playwright Marta Buchaca, presents an enigmatic play full of suspense and surprising twists which keeps audiences guessing until the very last moment!
Translation : M. Xatziemmanouil- D. Psarras
Direction :Thodoris Vournas
Production :Vaya Mataftsi
Starring : Antonis Giannakos, Nina Labrianidi, Vaya Mataftsi
THE ARTBASSADOR has licensed the Greek production, on behalf of the Agency Marta Fluvia Agencia Teatral, which represents the playwright Marta Buchaca and on behalf of the translators of the play Maria Chatziemmanouil and Dimitris Psarras.