Music
GREAT SOLOISTS
21 November 2023
HAKAN HARDENBERGER WITH ERGON ENSEMBLE AT THE ATHENS CONCERT HALL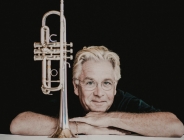 Ergon Ensemble in collaboration with the globaly renowned conductor and trumpet soloist Håkan Hardenberger, present a unique concert, highlighting the sensual brass sound and notable contemporary composers' works.
The Orchestra and the famous conductor Håkan Hardenberger, in the dual role of soloist and conductor, will perform imaginative works by major contemporary composers, including Tōru Takemitsu, Witold Lutosławski, Folke Rabe, Mark-Anthony Turnage και Heinz Karl Gruber, which expand the trumpet's repertoire and expressive boundaries.
THE ARTBASSADOR provided the Orchestra with the music material of HK Gruber's works, Zeitfluren και 3 MOB pieces for seven interchangeable instruments and percussion and Mark-Anthony Turnage's work Nocturne for trumpet and orchestra, on behalf of the Publishing House Boosey & Hawkes.