Theatre
DESPRÉS DE LA PLUJA by Sergi Belbel
At Dionysos Theatre, Cyprus, since 14 October!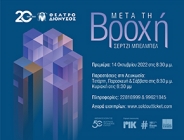 No rain for two years and smoking is banned. On the roof of a corporate building, employees and secretaries meet for an illicit cigarette. Slowly the roof top scene develops into a whole new world of changing relationships, blossoming love and imminent catastrophe...
A bittersweet comedy, which combines realism and symbolism, surreal humor and human sentiment, by the multi awarded playwright, theatre actor and director Sergi Belbel, one of the most interesting contemporary Catalan authors!
Translation : L.Karatzas
Direction : Chr. Giagou
Production : ΤΗEATRO DIONYSOS, CYPRUS
THE ARTBASSADOR has licensed the Cypriot production, on behalf of the Agency Marta Fluvià which represents Sergi Belbel's rights in this play.