Theatre
L' EMMERDEUR by Francis Veber
At Athinon Theatre, since 12 October!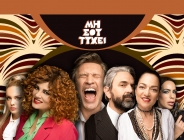 As a hired killer waits to execute... his contract, his plan will be accidentally thwarted by the suicidal man abandoned by his wife, occupying the neighboring hotel room. From this moment his life will get into an unbelievable, hilarious mess!
"L'emmerdeur", the amazing black comedy by the prolific and much-filmed French creator Francis Veber, was first staged in Paris at the Théâtre du Gymnase in 1969, under the title "Le Contrat". Subsequently it was adapted by Veber himself, in the 1973 hit film "L'emmerdeur", directed by by Édouard Molinaro and starring Jacques Brel and Lino Ventura. Since then, this legendary work has been widely produced, enjoying worldwide popularity and becoming a beloved classic!
Translation: A. Galeos
Direction: A. Chilakis- M. Dounias
Production: K. PAVLAKIS
THE ARTBASSADOR has licensed the Greek production, on behalf of the Agency Drama Paris-Suzanne Sarquier, which represents the playwright Francis Veber.