Theatre
MEDEA by Euripides
30 June 2017- 01 July 2017
A special proposal on the ancient tragedy at the Little Theatre of Ancient Epidaurus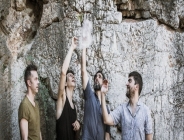 The tragedy "MEDEA" under the direction of Dimitris Karantzas was successfully presented in Greek with English surtitles, at the Little Theatre of Ancient Epidaurus, on Friday 30th June and on Saturday 1st July, in the frame of Athens and Epidaurus Festival 2017.
The text of the performance, apart from Euripides' Medea in translation of Minos Volanakis, incorporated excerpts from Heiner Müller's Medea material in Nikos Flessas translation, Pier Paolo Pasolini's Medea screenplay in Dimitris Arvanitakis translation and Jean Anouilh's Medea in translation of Fontas Kondylis.
The tragedy's adaptation, as well as the dramaturgy process were made by Dimitris Karantzas in cooperation with Theodora Kapralou. Original music: Henri Kergomard and set designs: Eleni Manolopoulou.
Three men were found on a stage, trying to give answers in Medea's legend, from the male perspective. A "whispering" performance which tried to justify, argue and legitimize Medea's act.
Actors: Giorgos Gallos (Medea), Christos Loulis (Jason, Kreontas, Teacher, Aigeas), Michalis Sarantis (Dance, Aggelos, Nurse)
THE ARTBASSADOR has licensed the use of excerpts of Jean Anouilh in the Greek production, on behalf of the French Organization SACD which represents the author's rights.