Theatre
TEBAS LAND by Sergio Blanco
At Neos Kosmos Theatre, since 20 October! Panhellenic Premier!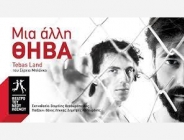 How could anyone kill their own father? The shocking story of Martin, a young parricide sentenced to life, is brought to light through his meetings with a playwright, wishing to tell his story.
"Tebas Land" by the internationally acclaimed and multi awarded Franco-Uruguayan playwright Sergio Blanco, made its triumph debut in Uruguay (2013), thrilling audiences and critics. Since then, this masterpiece enjoyed several successful productions worldwide, becoming one of his most performed works and in 2017 was awarded the prestigious London Award Off West End.
A moving, surprising drama about reality and fiction, retribution and justice in an absolute must see performance!
Translation: M. Chatziemmanouil
Direction: V. Theodoropoulos
Production: NEOS KOSMOS THEATRE
THE ARTBASSADOR has licensed the Greek production, on behalf of the playwright Sergio Blanco and on behalf of the translator Maria Chatziemmanouil.