Theatre
A GERMAN LIFE by Christopher Hampton
04 September 2020- 24 September 2020
Α powerful new play of self-reflection at Satiriko Theatre, Cyprus!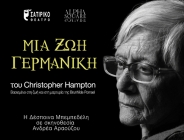 "A German Life", the new play by the award winning Christopher Hampton, is drawn from the life of Brunhilde Pomsel and the testimony she gave when she finally broke her silence to a group of Austrian filmmakers, shortly before she passed away, in 2016.
Brunhilde Pomsel's life spanned the twentieth century. Enduring hardship in 1930s Berlin, she worked for a variety of people, including a Jewish insurance broker and the German Broadcasting Corporation. Eventually, she came to work as a secretary in Joseph Goebbels' Nazi Propaganda Ministry during World War II, the center of atrocious and horrific events that changed the world. But what she witnessed, was a very different version of the Nazi regime, an ordinary peaceful, almost ideal, everyday life.
" I had no idea what was going on. Or very little. No more than most people. So you can't make me feel guilty."
How much she really knew? Innocent or culpable? That's the question at the heart of "A German Life", a searching play that probes confronting questions for contemporary audiences.
Sir Christopher Hampton's one-woman play "A German Life" had its world premiere in London in 2019, enjoying a sold out production marked by Maggie Smith's return to the stage after a 12-year absence. It was subsequently presented In Cypriot premiere on 5 March 2020, at Satiriko Theatre/Cyprus, in collaboration with the production company "ALPHA SQUARE", directed by Andreas Araouzos, with the amazing leading actress Despina Bebedeli, who was awarded with the Grand Prize 2020 of Cyprus Theatre Awards, for her exceptional performance and her lifetime theatrical achievement. Now, the powerful play returns for five performances in Nicosia, one in Limassol and one in Paphos, starting 4 September.
THE ARTBASSADOR has licensed the Greek production, on behalf of the UK Agent CASAROTTO RAMSAY & ASSOCIATES LTD.