Theatre
UNE HISTOIRE D' AMOUR by Alexis Michalik
In Panhellenic premiere, at Anesis Theatre since 23 October!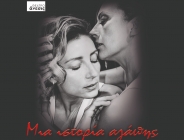 Since 2020, Alexis Michalik," l' enfant terrible" of French theater, has seen his five plays, Le Porteur d'Histoires, Le Cercle des Illusionnistes, Edmond, Intra Muros and Une Histoire d'Amour, at the same time on 5 Parisian stages.
From the moment his new creation Une Histoire d'Amour, premiered in Paris-La Scala, it became an instant triumph, thrilling audiences and critics and was honored with the 2020 Molière Award for Best Director in a Private Theatre. A majestic dramatic comedy, a powerful play about a unique love story between two women with unexpected twists....
Translation : Adonis Galeos
Direction : Simos Kakalas
Production : MYTHODIA
Starring : Vicky Volioti, Eudokia Roumelioti, Simos Kakalas, Τζini Papadopoulou, Stefania Zora.
THE ARTBASSADOR has licensed the Greek production, on behalf of the French Agency ''AGENCE DRAMA Suzanne Sarquier'', which represents Alexis Michalik's rights in this play.