Theatre
PETITS CRIMES CONJUGAUX by Eric-Emmanuel Schmitt
At Mikro Anesis Theatre, since 20 October!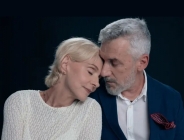 The extraordinary story of an amnesiac husband and his wife, who must rebuild their long-standing marital relationship from the very beginning, through the complex and painful path of truth!
"Petits Crimes Conjugaux", an outstanding work, by the award-winning author Eric-Emmanuel Schmitt, one of the most famous contemporary creators in the French theatrical field, is among the most significant plays worldwide, having been successfully produced around the globe.
An astonishing thriller about a couple searching the missing pieces of their joint life, full of surprises, twists and delicate humor. Not to be missed!
-I have never understood what genre conjugal life belongs to: tragedy or comedy?
My only certainty is that it belongs to the dramatic genre… -Eric-Emmanuel Schmitt
Translation: L. Mitsakou
Direction: S. Tsafoulias
Production: I. BEZOS
THE ARTBASSADOR has licensed the Greek production, on behalf of the French Agency ''AGENCE DRAMA Suzanne Sarquier'', which represents Eric-Emmanuel Schmitt's rights in this play and on behalf of the translator Louiza Mitsakou.